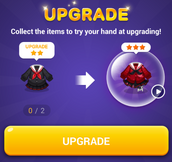 The Upgrade feature allows players to upgrade a certain Gachapon item to have a higher rarity. The upgraded item usually has a unique, special animation and appearance.
To upgrade an item, go to the Gacha Shop list and select the Gacha that has an UPGRADE tag. If you have all required items, you'll be able to upgrade.
Items you use to perform upgrade will disappear when you press the Upgrade button.
Q1. How can I upgrade?
Go to the Gacha Shop list and select a Gacha that has an UPGRADE tag.
Q2. Why do some items have an UPGRADE tag?
Items with the upgrade tag can be used as a material to create the special upgraded Item. It will tell you how much of the item(s) you need to make it.
Q3. I have all the items I need to upgrade. Why can't I upgrade?
You cannot upgrade if you are currently wearing the required items, if they are placed in your Room, or if you have recycled them.
Alternatively, if the time period for upgrading has passed, you will not be able to upgrade.
Q4. Where can I find out when I can upgrade?
You can upgrade as long as that Gacha is on sale. Check the individual Gachas to see how long they will be on sale.
You will not be able to upgrade once the Gacha sale period has ended, even if you get all the required items.
Q5. What happens to items I use to upgrade?
Items used to upgrade will disappear. However, items required for upgrades will not disappear for any other reason than having been used for an upgrade.
Q6. How do I upgrade items in the slot machines?
Go to the Slot Machine's collection and tap on the item you want to upgrade. You will need the ingredients from the Ingredient Bags (obtainable from Achievements and Quests) and other fashion items obtainable from playing the Slot Machine.
Upgrade List
Edit
Warning: Image Heavy
Ad blocker interference detected!
Wikia is a free-to-use site that makes money from advertising. We have a modified experience for viewers using ad blockers

Wikia is not accessible if you've made further modifications. Remove the custom ad blocker rule(s) and the page will load as expected.