This is the LINE PLAY Wikia's Policy which lays out the rules and policies for contributions.
Be respectful and mature to other users on the Wikia.
Write formally.
Provide helpful information that is relevant to LINE PLAY.
Do not add your avatar code or avatar name in any of the pages or comments other than the official Add Your Avatar Code thread or your profile.
Images must be in PNG unless the only image quality found is JPEG.
This Wikia is English only. If you'd like to make your own LINEPLAY Wikia with another language based on this one, it is fine. For example, the Español LINEPLAY Wikia.
Text Information
Edit
Information must be relevant to the game and has material from the game.
You cannot add your avatar code or avatar name, jokes, assumptions, emoticons, and unofficial information.
Write professionally. Do not add slang or curse words.
Text information can be improved and typos can be fixed if needed.
Do not put an expiry date as N/A on Gachas if it's a permanent gachapon.
Do not add your own personal opinions or rants onto any of the pages.
This Wikia does not tolerate vandalism or random gibberish put onto pages. You will be blocked from editing for doing so.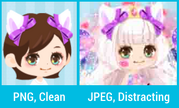 Images must be saved as PNG. JPEG is only allowed if no other quality of the image can be found.
Do not replace images that already follow the Image policy.
For images and GIFs showing certain avatar items, all other items must be removed from the player in order to showcase the item without distraction. Example on the right.
Gachapon images should not include the title inside of it since it is already provided on the infobox.
Profiles and Comments
Edit
Be respectful and appropriate.
Avatar Codes and Avatar Names can be shared on the Profile and this Thread ONLY.
Comments cannot share or ask for cheats, hacks, or exploits of any type.
You are free to share your opinion but do so in a respectful way. No curse words or all caps lock.