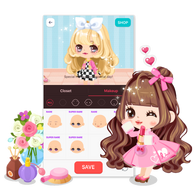 The Face Shop is a feature that allows you to change your avatar's face, mouths, skin color, eyes, eye brows, and nose shape to what you desire.
It costs 1 Face Shop ticket (20,000 Gems / 20 Cash) no matter how little or how much you change your face. There are preset faces where LINEPLAY already chooses face features for you. If you'd like to go back to your default face or start over, there is a small reset button in the right corner.
There are 20 face shapes, 248 eyes, 74 eyebrows, 60 noses, 137 mouths, and 11 skin colors for selection. There are usually two different versions of the same eye with different colors.
You cannot change the eye color of a specific eye.
Ad blocker interference detected!
Wikia is a free-to-use site that makes money from advertising. We have a modified experience for viewers using ad blockers

Wikia is not accessible if you've made further modifications. Remove the custom ad blocker rule(s) and the page will load as expected.