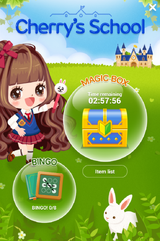 Cherry's School was a feature exclusive to new users joining LINE PLAY. It allows users to learn more about LINE PLAY's features and fashion by giving them rewards through the Magic Box, Bingo and Attendance Chart.
Cherry's School only lasts for 15 days from the time the user joined.

The Bingo board can be completed by doing the required objectives. By getting bingo, you can receive up to 36,000 gems. Gems are sent to the Mailbox. Once Cherry's School disappears, you cannot redeem the rewards.
Posting a diary entry - Post your first diary entry
Adding 5 friends - Make 5 friends
Fashion Shop - Buy an item from the Fashion Shop
Room Deco - Decorate your room for the first time
Room Parties - Invite a friend for a room party
Sending gifts - Send a gift to a friend for the first time
Gacha - Play a gacha for the first time
Changing outfits - Use the closet and change your clothes for the first time
Magic Box - Open the Magic Box 10 times
Attendance Chart
Edit

New users will get an exclusive attendance chart in Cherry's School. They will receive rewards for 8 days. You can get up to 25,000 Gems through the attendance chart. It takes 18 hours to redeem another gift.

Magic Box
Edit
The Magic Box is a free gacha filled with different interior items and fashion items. It can only be opened every 3 hours, and it is possible to receive duplicates.

Item List
Edit